Delicious, Nutritious Options Campers Love
Our campers play all day, and when it's time for lunch, they are ready to refuel.
Campers eat lunch in our Pyramid, a magnificent open air pavilion created just for Rolling Hills. In this relaxed setting, campers eat family style and are served by their counselors.
We serve a delicious, child friendly hot lunch that appeals to the most demanding appetites. A wide variety of options are available on a daily basis including:
Hot meal of the day (example: pizza, chicken nuggets, etc.)
Pasta and Sauce
Hot Baked Potatoes
Full Salad Bar
Deli Sandwiches
Fresh Bagels (delivered daily)
Fresh Fruit, Yogurt, Tuna Salad, etc.
…and so much more!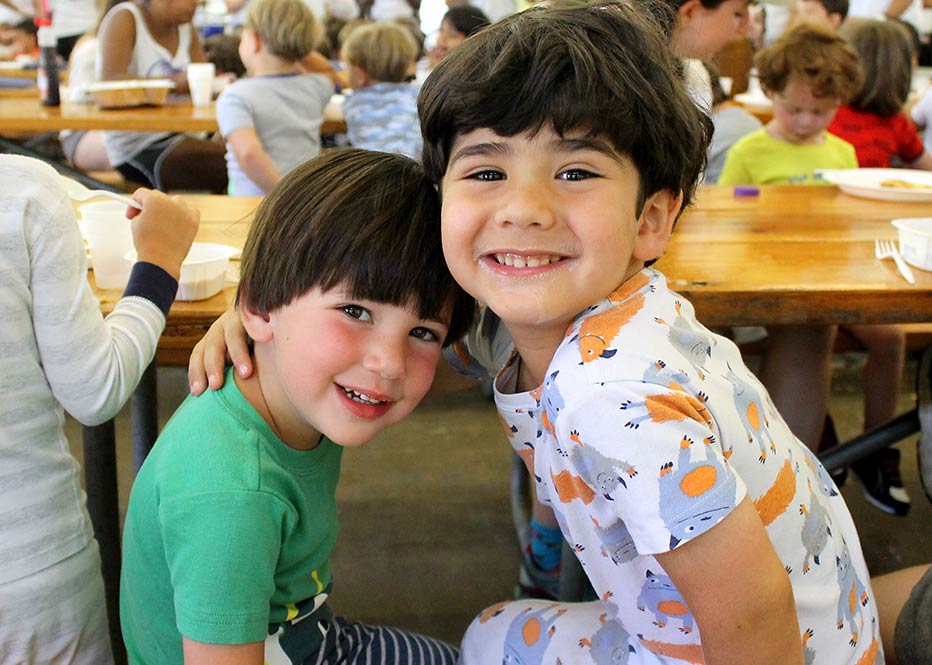 Food Allergies
Rolling Hills prides itself on ensuring the health and safety of every camper. That is why we have a full time food allergy specialist on staff to meet the individual dietary needs of our campers who have food allergies. If your child has specific food needs, we will work with you to establish a plan for the summer. Our attentive, highly trained Division Leaders, counselors, and food preparation staff will take whatever steps needed to keep each camper safe and comfortable at all times.
Kosher Food
Campers and parents can feel confident that there is always a full range of OU and Kosher options available at every meal. Fresh fruit, bagels, and many delicious dairy selections provide so many choices for campers to enjoy as they eat and socialize with their group.